About Dave's Trailers...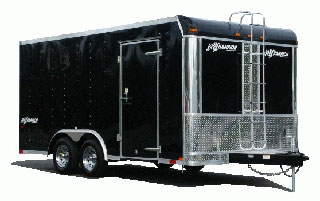 Dave's Boat Trailer Sales Inc. has been in business since 1980. This family owned business started with just 6 boat trailers and has since expanded its inventory to include over 300 trailers in stock at any given time!
We pride ourselves in providing the community with their trailering needs for 35 years. During these 35 years, we have experienced all of the existing brands and stock or special order something for every type of customer.
Our inventory includes:
Boat Roller Trailers
Boat Bunk Trailers
Jet Ski Trailers
Utility Trailers
Dump Trailers
Landscape Trailers
Motorcycle Trailers
Enclosed Trailers
Car Haulers
... and more!
We graciously accept payment by cash, check, debit, credit card and financing (for individuals who qualify).
We pride ourselves in our ability to provide the best prices and availability on trailers, trailer parts, and trailer services. We aren't the biggest company; just the company most dedicated to providing affordable trailer services.
Our sales, parts and service staff have a combined experience of over 50 years in the boating & trailer industry. They will help you find what you need and/or answer any questions you may have. If we don't have what you are looking for, we try our best to special order it for you at a lower cost than many of our competitors Dave's is able to register your trailer and provide you with metal tags at the time of the sale. For our customers in Maryland, there is no hassling with the MVA. For customers outside of Maryland, we also offer 60 Day Temporary Tags. Additionally, we have a large Parts Department which carries an inventory of over 3,000 items and a Service Department capable of boat changes and trailer repairs. All of our parts and services are always offered at affordable prices, as part of our dedication to be the best Trailer Sales and Service Provider on the East Coast. Our Trailer Service Department is capable of trailer repairs, boat changes, hitch installation and much more. When your trailer is in need of a check-up, we have the service staff that will take care of your needs. For individuals seeking financing options, Dave's Trailers has got you covered. Contact us today to fill out an application!